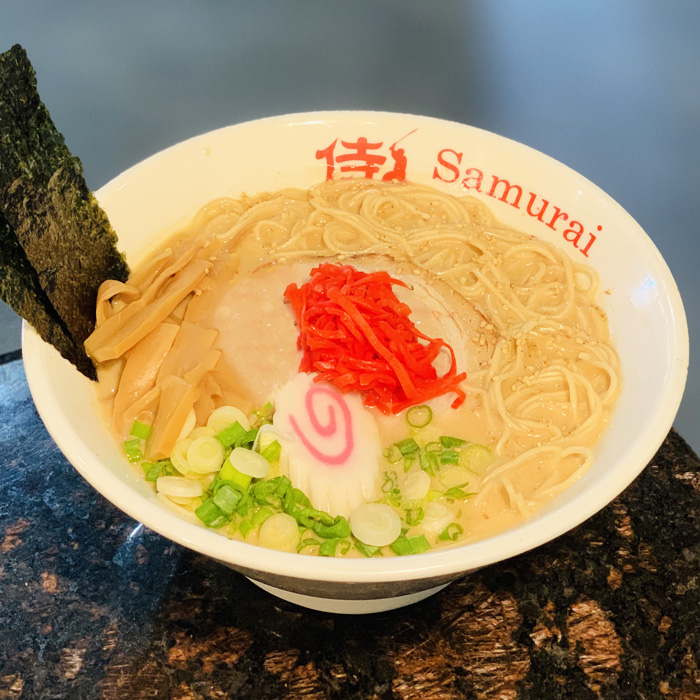 TONKOTSU RAMEN
$57.95 $45.95 3 Servings
DEnjoy our authentic and traditional Hakata tonkotsu ramen at home! This ramen set includes: straight thin Hakata tonkotsu noodles, tonkotsu ramen soup (pork broth), chashu (pork slices), menma (marinated bamboo shoots), naruto (fish cake), green onion, nori (dried seaweed), toasted sesame seeds, and red ginger.
*If you prefer wavy egg noodles, please refer to item number #06
We now offer FREE SHIPPING to the entire U.S.A.! We cover all the costs! You will receive your order within 4-6 days from your order date.
---
---
More Ramen Available To Buy Online
Authentic Japanese Ramen since 2006
Samurai Noodle is the first restaurant in Seattle to specialize in authentic Japanese ramen. We take pride in specializing in our famous Tonkotsu ramen (Pork broth), while offering other delicious options. We are passionate about what we do. You will never find us compromising our product - each and every bowl is made with the same passion to give our customers an authentic ramen experience.