LICENSE PROGRAM
In the recent years, ramen restaurants have become more prominent.  It has become much more difficult to run a ramen shop.  However these restaurants mostly use commercially pre-made tare (kaeshi), concentrated soup, pre-made noodles and even pre-made pork slices (chashu.)  Vendors and manufacturers of such ingredients are limited in U.S. still.  Thus many ramen shops in U.S. end up getting the same ingredients as other ramen shops.  Does this not mean that all those ramen shops are the same and lack originality?  I'm sure you ramen lovers know that these copycats will soon be out of business.  The key to the ramen business is the secret to make your own tare (kaeshi.), soup, noodles and pork slice.  Samurai Noodle has been in business in the U.S. since 2006.  Why throw away half a million dollars to be a franchisee of mega franchise ramen shops of Japan, when you can join our low-cost program to become a real ramen master?
Samurai Noodle is an authentic Japanese ramen shop based in Seattle, Washington. The company was established in 2006, and currently has two branches in Seattle, two licensed stores in Texas, a licensed store in Utah and another store in Connecticut. We have our first ramen food truck operating in Seattle and soon we will have the second truck in Utah.
Samurai Noodle' s specialty is Tonkotsu ramen from Japan' s Hakata (Fukuoka) region, although we do proudly serve Tokyo Shoyu ramen, Hokkaido Miso ramen, and our house original spicy ramen variations. In order to keep our Hakata Tonkotsu ramen authentic and delicious, we allow days for the broth to cook and never use pre-made or commercial ingredients. After you empty a big pot of our fully-prepared pork broth, the pork bones inside become so tender that you can easily crush them into pieces. This is what you see in traditional ramen shops in Kyushu, Japan. This is the proof of real authentic rich and thick Tonkotsu ramen. We also take pride in our homemade fresh ramen noodles, produced in-store. Because we believe that the ramen noodle is just as important as the ramen broth, Samurai Noodle' s homemade ramen noodles are not manufactured by offsite or out-of-state noodle manufacturers, nor are they frozen, like the kind of noodle you will likely find in other, less authentic stores. In our ramen, you find the sweetness of fresh noodles and feel the "Koshi" , or "bite" , that Japanese ramen enthusiasts crave. In Samurai Noodle stores, you will never find commercial, pre-packaged, or "instant" ramen soup ingredients. Our mission is to provide serious and authentic Japanese ramen shops where our customers can enjoy real, traditional Japanese ramen in the United States. Our License Program will help you master the necessary skills to make authentic Japanese ramen and give you the ability to be a Samurai Noodle licensed store owner.

License Program Summary
Our Licensing Program is an inexpensive ramen training system and aims to maximize licensee profit through:
NO royalty obligations
Licensee purchases only Tare ingredients from Licensor. "Tare" (tah-ray) is the soup base that is the essential ingredient underlying all of Samurai Noodle' s authentic ramen soup items.
Licensee purchases all other ingredients from its vendors directly with no mark-up charged by the licensor. This is how we can maximize the licensee' s profits. Licensor will offer full support to the Licensee to find appropriate vendors for any and all ingredients. *
Licensee purchases only the Licensee Training Service when the License Agreement is made, and will not be required to pay any other licensing fees going forward. **
Licensee purchases all equipment from vendors directly. The Licensor will offer full support to the Licensee to procure such equipment. *
Licensee can employ their own construction company and architect to design the store. The Licensor will offer full support to the Licensee in the design of the store and planning of the kitchen with no cost.*
Licensor respects the Licensee' s local demand, and the Licensee will be able to serve their own original menu items with consent and under supervision of the Licensor.
Licensor will not sell the Licensee any supplies, equipment, ingredients (aside from Tare), or any other items related to store operation once the Licensee begins their store operation unless the Licensee requests.
Licensor trains the Licensee for the preparation of homemade ramen noodles. Licensee must use the same noodle-making machine that the Licensor uses, however. Licensee may purchase the machine directly from the exporter in Japan. Licensor will offer full support to the Licensee to procure such equipment*
* Support offered at no charge
**See License Program Cost for more information on costs and fees
License Program Cost
Samurai Noodle Training Fees
Master Training Service
Grand Opening and Site Training*
*Accommodations for Trainer
Total Training Fees

$17,500
$15,000
$7,000
$42,000

*Accommodations will be changed based on which city you will have your store in.
Master Training Service
We require the Licensee to take part in 3 full weeks worth of training days, not counting any days off.
Generally, you will spend about 2 days learning store service and operations, 6 days to master noodle making, 6 days for prep training, and 7 days for ramen cooking. This is the fast-track option and assumes good memorization and physical and learning skills. However, the longer the better, and in order to feel truly comfortable and prepared for opening day, we recommend you spend an additional week becoming acquainted with store operations, or even more if your time allows. We will not charge additional fees for a longer training period; however, you must consider the cost of accommodations for yourself throughout the training program.
We expect the Licensee to respect the training program and approach it with seriousness and dedication. As Licensors, we have to ensure that you obtain the skills necessary to become an independent ramen shop owner without relying on the Licensor for additional support. Of course, this provision is made in order for you to maximize your store profits.
Grand Opening and Site training
We will dispatch two of our Master Trainers to the Licensee's store during opening day to supervise its grand opening operations and train its employees for 21 days.
After Service
The Licensor is happy to provide additional training and other support per Licensee request after the grand opening, for a fee. However, unlike other franchise owners, we do not obligate the Licensee to purchase any unnecessary services or products from the Licensor.
Exclusive Agreement
If the Licensee is interested in a drafting a license agreement in order to become a Master Licensee for its desired territory, the Licensor is happy to discuss this matter.
Contact
If you are interested in becoming an authentic Japanese ramen shop owner and starting an exciting and fulfilling partnership with Samurai Noodle, please feel free to contact:
Ryo Izawa
Founder
Samurai Noodle Inc.
ryo@samurainoodle.com
Our program would make you the Ramen Master!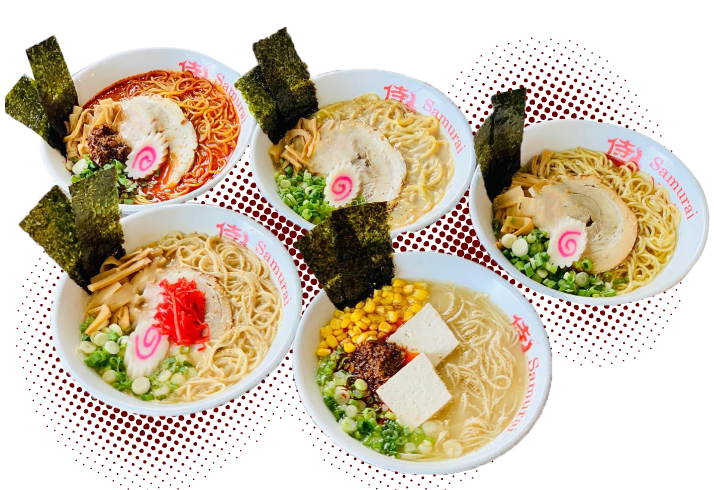 SHIPPING NATIONALLY - BUY ONLINE NOW
Samurai Noodle is the first restaurant in Seattle to specialize in authentic Japanese ramen. We take pride in specializing in our famous